Sebastian Vettel has known the AlphaTauri team since his early days in Formula 1.Photo: Imago Images/Sven Simon
Formula 1
07/17/2023, 07:2107/17/2023, 07:57
Halfway through the season, AlphaTauri takes a drastic step. The team parted ways with Nyck de Vries without further ado due to poor results – having only been in the cockpit for ten races.
"We had to do something," said Helmut Marko, Director of Red Bull Motorsport. "Why wait and what does two more races mean if you don't see any improvement?" "Unfortunately, he didn't do any super laps that surprised us."
Already next weekend Daniel Ricciardo will be behind the wheel of the AT04 in Hungary. According to experts and former drivers, the dismissal in De Vries' career should cause a major snag. Now Sebastian Vettel has also made a public statement about his former team's actions.
watson app for your smartphone
Do you like to read Watson? Get our news app on your smartphone now – for free, of course! Here it goes straight
to the Apple app
Here's to
app on play store
. Here you can read what awaits you in our app. And if you want more, be a follower: in the now
Instagram
or follow us
Tik Tok
"It's a little tricky when it ends so suddenly. It's brutal," Vettel explains of de Vries' sending off. The 28-year-old de Vries joined AlphaTauri only at the start of the season.
Vettel praises de Vries
"Of course it's a shame for Nick how it ends. I think he has a great chance," Vettel continued. However, he explained in an interview at the Goodwood Festival of Speed, which takes place in southern England this weekend That he viewed de Vries not only as a good person but also as a good driver.
"Nick is a very nice guy, but the speed just wasn't there," Red Bull team boss Helmut Marko said before the Dutchman was sent off.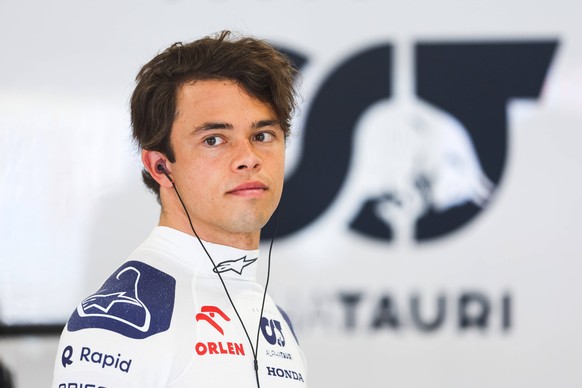 Nyck de Vries has to leave AlphaTauri after just ten races.Photo: imago/hoch2 images
Compared to his teammate Yuki Tsunoda, de Vries drove slower times and was unable to collect a championship point.
Ricardo must rescue AlphaTauri with expertise
On the other hand, Daniel Ricciardo has recently impressed as a reserve driver for Red Bull, especially in tire tests, and thus took the vacant seat at AlphaTauri. The Australian began his Formula 1 career over ten years ago with Torro Rosso, the team that is now AlphaTauri.
"It's definitely a challenge to jump in and try to start right away," admits the 34-year-old. "But I also feel like I am I've been through a lot in the past few years, so I'm not afraid of what will happenHe confirmed.
AlphaTauri is currently suffering mainly from an uncompetitive car. Tsunoda also only finished 16th after the Grand Prix of Great Britain, and the team was last in the team standings in the World Championship.
Vettel hopes for a continued career for de Vries
What that means for de Vries in the long term remains unclear at first. "I hope this kind of decline doesn't affect his career. People tend to do that and it's not right," Sebastian Vettel noted.
Nyck de Vries began his Formula 1 career in 2022 as Alexander Albon's replacement at Williams. He had won the Formula 2 Championship at the age of 24 and became the Formula E World Champion in the 2020/21 season.
"Internet nerd. Avid student. Zombie guru. Tv enthusiast. Coffee advocate. Social media expert. Music geek. Professional food maven. Thinker. Troublemaker."