Contents
Siya Kolisi is the first black captain of the South African national rugby team. He shines as a role model on and off the field.
Siya Kolisi has already made his plan for the future. "When I stop playing, I want to make the world a better place," the South African powerhouse recently said on a podcast. Mind set winning. For many people, this is an empty phrase – but Springbok can certainly be trusted.
Rugby World Cup live on SRF

Open the box
Close the box


Follow the second semi-final and final match live on the SRF channel:
Saturday 21 October: England – South Africa on SRF information from 8:50pm
Saturday 28 October: Final on SRF information from 8:50pm
Kolisi shines on the rugby field. With his style of play, but above all with his respectful behaviour, he embodies this sport to perfection. A combination that helped him become captain of the South African national team in 2018. This is a historic achievement for the rainbow nation, as no black player has ever been given the honour.
South Africa united in rugby
During apartheid, whites played rugby in South Africa, and the Springboks were a symbol of apartheid. After the first democratic elections in 1994, a team including both black and white players participated in the World Cup for the first time the following year. South Africa won the title on home soil, and pictures of President Nelson Mandela in a green "Springbox" shirt spread around the world.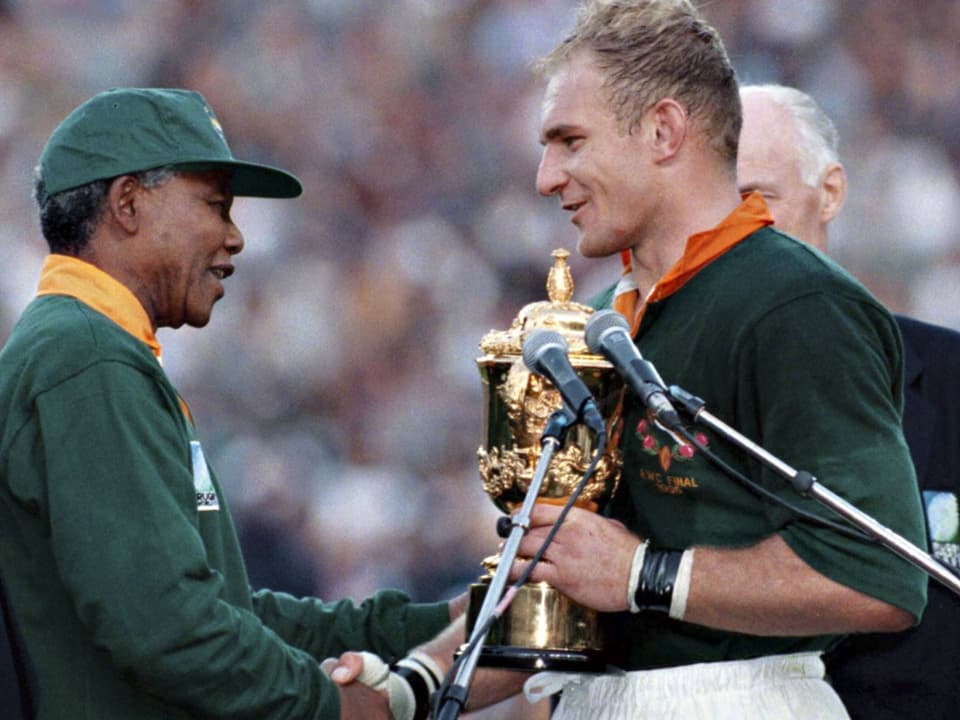 With this new sense of togetherness, the country's problems did not disappear with the push of a button. But Kolisi, who has gone from one of the country's poorest towns to the big stage, now embodies the 'new' team – and is therefore a role model for many young South Africans. "He's someone everyone wants to be around," former Nationals player Joel Stransky said. Kolisi is iconic "because of the way he drives, the way he plays, the way he lives his life."
Either way, lead by example
This is what the captain does these days in the World Cup. After South Africa's stunning 29:28 quarter-final win over France, the 32-year-old's first words to the frustrated hosts were: "I just want to congratulate them on what they have achieved." French fans can be "proud of this team".
The fact that Kolisi and his team are on their way to a second successive World Cup title is almost overlooked. England awaits the semi-final match on Saturday. Whether it's a win or a loss, he still wants to be a role model: "Every day I have to remind myself that I have to make an effort because other people are looking up to me too – and I hope I can be that little bit of hope for myself." they."
"Internet nerd. Avid student. Zombie guru. Tv enthusiast. Coffee advocate. Social media expert. Music geek. Professional food maven. Thinker. Troublemaker."