Finnish border guards sounded the alarm: in recent weeks, an increasing number of illegal immigrants have arrived from Russia. The first action has now been taken.
November 12, 2023, 9:44 pmNovember 12, 2023, 9:45 pm
Camilla Kohrs/T Online
It was only in September Finland It closed its borders to cars with Russian license plates – and cyclists are now no longer allowed at some border crossings. It seems that more and more people are trying to reach Finland illegally by bicycle.
Until recently, Russian authorities did not allow people to leave the country at the border without valid documents, public broadcaster Yle reported, referring to Finnish officials. But since August, border guards have identified 91 people who came from third countries Russia He traveled and sought asylum at the border in Finland.
A security expert warns
Just last week, 30 asylum seekers arrived on wheels, said Jukka Lukkari, deputy commander of the border guard in southeastern Finland. "This is clearly a growing phenomenon."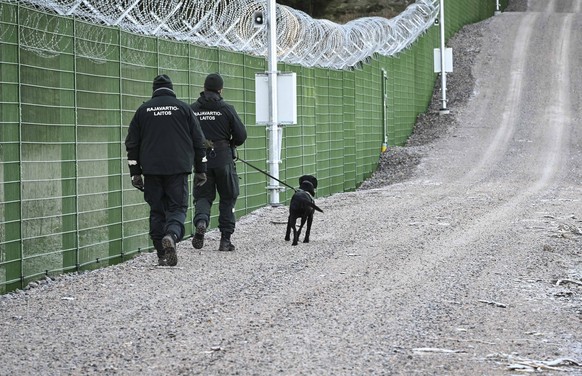 Finnish border guards on the border with Russia: "If they open the road there, we will soon have a refugee problem."Image: Cornerstone
Security expert Jukka Savolainen told Yle that Russia's behavior was a clear message to Finland. "If they open the way there, we will soon have a refugee problem." The Interior Ministry told Yle it was ready for change at the border. According to Finland, Russia had already directed a large number of asylum seekers to the border in 2015. In Finland at the time, this was seen as an attempt by Russia to control the country and the European Union To press.
Entry by bus is still possible
Only on Sunday did the Finnish Border Guard confirm that entry by bicycle was no longer permitted. This procedure has been in effect since last Thursday. This aroused dissatisfaction with the Russian side, reported the independent online magazine Fontanka. It seems that even the Russian border guards did not know about it at first. But now there are signs with bicycles crossed out.
According to the report, the ban applies to three border crossings in southeastern Finland. It is generally prohibited to cross the border on foot. The remaining legal option is to enter Finland by bus.
Following the Baltics, Finland also banned entry of cars with Russian license plates in September. The basis for this is a clarification from the EU Commission on September 8 regarding the implementation of sanctions against Russia. Accordingly, vehicles registered in Russia are no longer allowed to enter the territory of the European Union. Finland is the European Union country with the longest border with Russia.
Sources used:
yle.fi: Increase in the number of asylum seekers on the eastern border (English)
Fontanka.ru: Bicycles are no longer allowed in Finland. Russian cyclists are turned away at the (Russian) border
reuters.com: The flow of migrants to Finland from Russia has stopped: Helsinki
Captured by drone: Russian soldier flees across no man's land
Video: Watson
You may also be interested in:
"Typical entrepreneur. Lifelong beer expert. Hipster-friendly internet buff. Analyst. Social media enthusiast."