The weak economy hasn't stopped Chinese people from traveling during the national holiday "Golden Week" in October – the first holiday since the end of three years of travel restrictions. Destinations and what they buy say a lot about consumer confidence and changing tastes.
The sound of Mandarin in the tourist areas of Europe and Asia is a sure sign that Chinese travelers have returned in droves. A comprehensive recovery in cross-border movement, which before October was more than 70 percent of pre-pandemic levels, now seems within reach.
However, in the new post-Covid environment, the destination map for China's outbound travelers looks a bit different. According to data from online travel firm DAST compiled by Goldman Sachs, on the same holiday in 2019, before the pandemic, only half as many flights operated on this year's national holiday.
Target America loses
Travelers may be disillusioned by warnings about Tokyo's nuclear waste water disposal, or by Chinese social media flooded with cautionary tales of phone scams or kidnappings spread by cybercrime syndicates in Southeast Asia.
Wherever she goes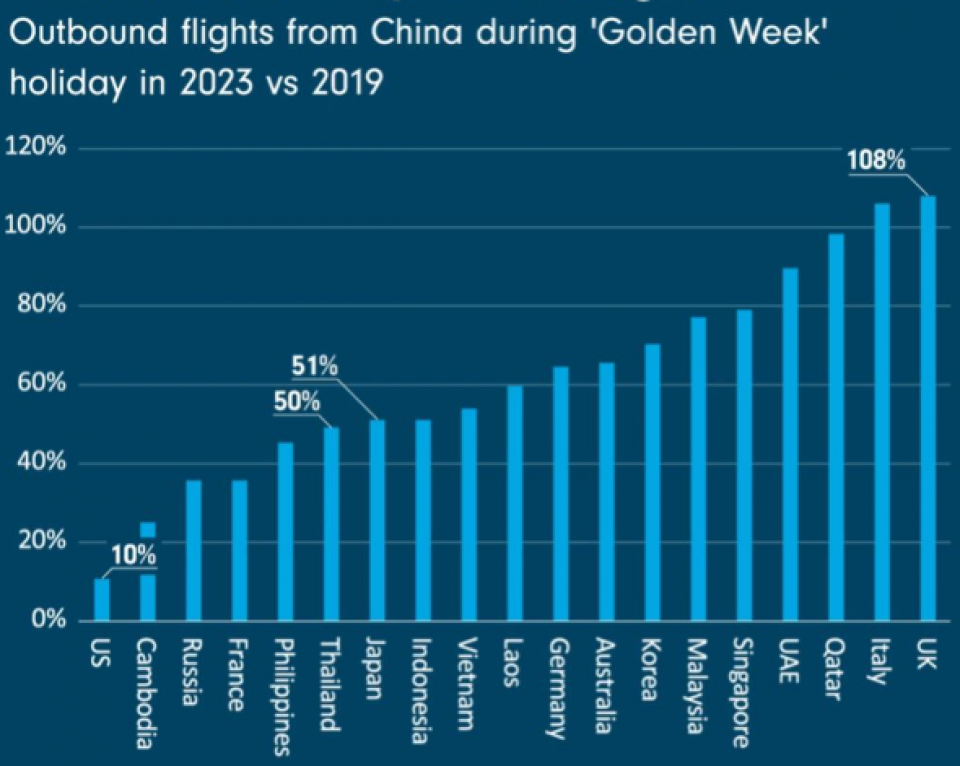 Even more surprising is that America's popularity as a travel destination has declined (the number of flights reached only 10 percent in 2019); This may be related to tensions in bilateral relations, but is also a result of the relatively slow resumption of flights after the shutdown, as they only resumed in August.
Of course, base effects also play a role, and we cannot ignore the downside of a slightly weaker renminbi, which makes overseas travel relatively expensive. On the other hand, there are places like the United Kingdom and Italy that have exceeded their 2019 flight volumes.
This gain may indicate that these markets are taking stock from those who have experienced declines. But this is due to the quick resumption of flights.
Less money for luxury items
In some ways, Chinese outbound tourism mirrors what is happening at home. Singapore, where flights from China rebounded to 80 percent in 2019, has fewer Chinese visitors spending their money on luxury goods.
According to news reports from the city-state, the number of inbound group tours is actually down 80 percent compared to 2019; Instead, individual tourists roamed the streets, not unlike the "city stroll" trend popular among young people in China, which avoids expensive tourist hotspots and is practically non-consumption.
Ultimately, travel is a discretionary expense. Tourism bosses are betting that Chinese people will want to go out again after three years of pandemic restrictions. But consumer confidence is still not back on track, and full recovery may take some time.
"Communicator. Entrepreneur. Introvert. Passionate problem solver. Organizer. Social media ninja."