Irene Yee and Jack Aronson at work on their robot 'Elite Turtle.' The robotics team at Weston Middle School participated in the VEX Robotics Southern New England Regional Championships in Framingham, Mass. The event hosted 48 teams from Massachusetts, ...
Adam Dunsby State Rep. Adam Dunsby (R-135) has joined calls from municipal officials across Connecticut in requesting the ...
The cast of Weston High School Company is gearing up for performances of South Pacific from March 22 ...
A forum on tax issues will be held on Thursday, May 17, at 6:30 p.m. in the Community Room at the Easton Public Library. The forum is open to the public and will feature Ed Burger CPA, Sherman Turner JD/LLM and Chris Neubert JD CFP, who will present an overview of Public Law 115-97, an act originally introduced in Congress as the Tax Cuts and Jobs Act and passed into ...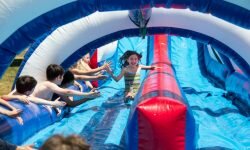 Ridgefield Academy's 15-foot water slide, The Patriot Plunge, is a highlight for campers. Sponsored Content:  ...
Spring isn't here yet. Spring is the season of rebirth and hope. I was reminded ...
Sign up for our Online Today email newsletter ➡
The list is growing! Join the hundreds of Easton, Redding and Weston residents who already receive our daily newsletter. You'll get the latest news, sports, events, features and much more delivered daily to your inbox from Aspetuck News.