Jim Jordan lost three rounds in the race for Speaker of the House. The wait for a solution is now likely to continue, even with major decisions pending in US politics.
October 21, 2023, 05:28October 21, 2023, 3:56 pm
The US Congress is increasingly mired in chaos. Two and a half weeks after the dramatic ouster of the previous Speaker of the House of Representatives, Kevin McCarthy, the search for a successor is back on. Republican Jim Jordan dropped out of the race after losing a three-run election for the powerful leadership post in the US Congress.
A disappointed Jim Jordan speaks to the media.Image: Keystone
The Republican Party dropped a confidant of former US President Donald Trump as its nominee on Friday. It is not known who could compete instead. A re-election may be held on Tuesday. Until then, legislative work in the Congress House is largely idle.
McCarthy was ousted from office in a historic vote in early October. Radical Republicans forced him out of office. This is the first time in US history that a Speaker of the House of Representatives has lost his job. This office ranks third in the US hierarchy after the President and his Vice President.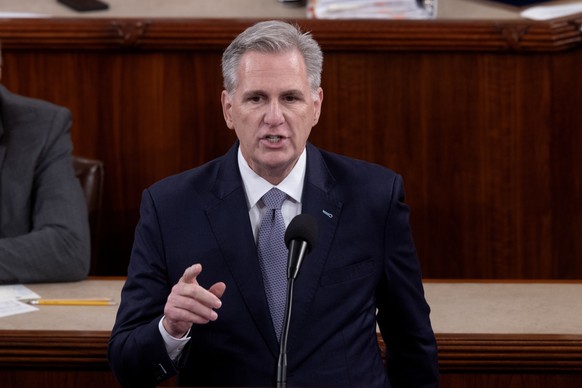 Kevin McCarthy was dramatically voted out.Image: Keystone
Far-reaching consequences
The drama between Republicans in the House of Representatives has brought the US Congress to a political deadlock for the time being. That's because legislative work there is largely at a standstill until a new House president is appointed — and it demands the attention of the U.S. Congress amid major international conflicts in Ukraine and the Middle East. On Friday, US President Joe Biden asked Congress for a $105 billion (a cool 94 billion Swiss francs) aid package with support for Ukraine and Israel.
The chamber also urgently needs to decide on the federal budget. Initially, only an interim budget was agreed until mid-November, with no support for Kyiv. But now nothing is moving in Parliament.
A failed candidate
Jordan also lost the third round of voting for the first job on Friday and lost more votes from his own ranks than in previous attempts. The committee ruled him out as a candidate in an internal vote behind closed doors. Jordan later promised to do his best to find another candidate.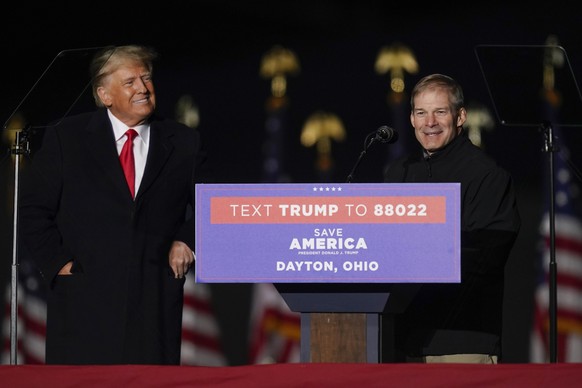 Jim Jordan at Donald Trump's side – Jordan is also considered a hardliner among Republicans. Image: Keystone
The right-wing hardliner has tried to win over internal party opponents in recent days. Some reported being threatened and pressured by Jordan's supporters.
The way forward
Currently, Patrick McHenry, a Republican, is acting as Speaker Interim of the House of Representatives. However, he was primarily responsible for formal work, particularly for organizing the election of McCarthy's successor. McHenry announced Friday that the Republican Party will meet Monday evening (local time) to discuss a new nominee.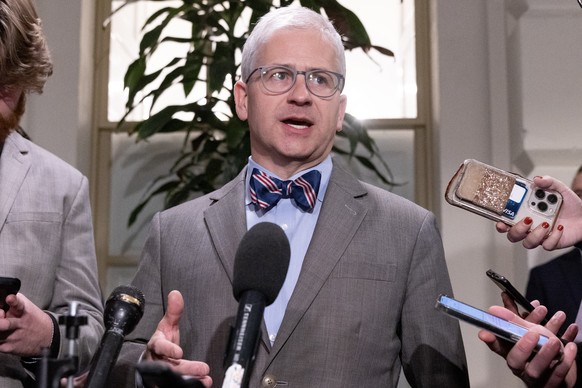 Republican midterm fix: Patrick McHenry.Image: Keystone
After that the election process will resume in the plenary session on Tuesday. Candidates for the position will need some time to talk to other MPs, rally support and explore the prospects for a majority. It's important for the team to take some space and time for a "fresh start."
Frustration of MPs
After an internal meeting Friday, Republican lawmakers expressed frustration and anger at the chaos in their own ranks. Representative Dusty Johnson, for example, complained that the blind ambition of individuals had sufficiently torpedoed the process. "Citizens are fed up and members of Congress are fed up," he told CNN. This "bullshit" is "desperate" and must stop. "This is a time when we need people who are interested in solving problems, not egos." However, there will be "a few days of confusion" until a solution is found.
Republicans have only a narrow majority in the House of Representatives and the caucus is highly fragmented. It's unclear which candidate will be able to rally a majority of Republican delegates behind them. Tom Emmer is considered the new candidate for the leadership of the group. (sda/dpa)
You may also be interested in:
"Communicator. Entrepreneur. Introvert. Passionate problem solver. Organizer. Social media ninja."