Memories of the greatest hippie festival of all time
01/05/2023 – Woodstock – Who doesn't remember the legendary Woodstock festival that took place in August 1969 – 54 years ago? In that time, 32 bands and solo artists have performed in front of an estimated 450,000 visitors, including stars like Jimi Hendrix, Joe Cocker, The Who and Janis Joplin. For the hippies' biggest festival, the legend of "Woodstock" will be brought back to life once again, in… Wed 9 Aug On an outdoor site at Kotten Nie in Gladbeck.
The legendary hippie event was held in sleepy Bethel, New York – yet it's making waves around the world. The original festival was considered the pinnacle of the hippie movement in the United States at the time. It's been more than fifty years since nearly half a million young hippies and music lovers descended on the tiny hamlet of White Lake for three days to celebrate love, peace and happiness.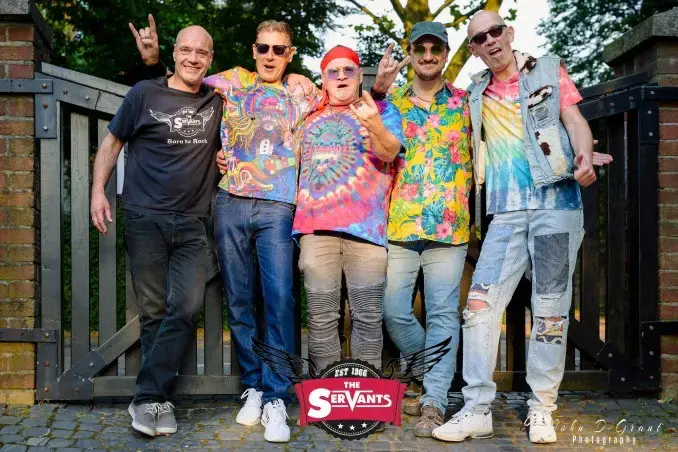 "A day of love, peace and music" in Gladbek
At the "Little Woodstock Festival" in Kotten Nie on Bülser Strasse 157, the organizers want to revive the spirit and zeitgeist of the past for the fourth time. As in previous years, the Ruhr band "The Servants" took part in the musical entertainment at "Woodstock 4.0" and will perform many songs since then. Among them are such titles as Hey Joe by Jimi Hendrix, Proud Mary or Bad Moon Rising by CCR and many other songs from that time.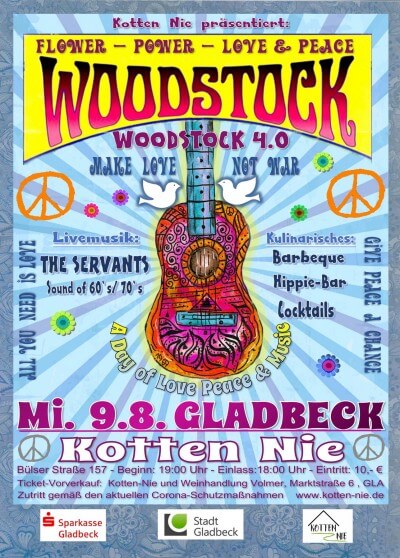 Woodstock fans can be prepared for a lot, because musicians will want to pull out all the stops this evening and revive the zeitgeist of yesteryear with their music. from 7:00 p.m Guests can expect a cross-beet program with hits from the Beat Club era, Flower Power, Woodstock, and more. Music has accompanied and shaped a generation throughout their lives. The former world hits are legendary today but are still a part of every radio station.
In addition to the musical theater program, guests can also look forward to culinary delights such as the hippie bar with its flowery strong cocktails and the barbeque with grilled dishes.
The organizer is Förderverein Kotten Nie eV, which is supported by the Cultural Office of the City of Gladbeck. The organizers are looking forward to dressing guests from the hippie era: flower power, love and peace a la Woodstock 1969!
More information:
Organizer: Förderverein Kotten Nie eV and the city of Gladbeck
Start: 7:00 PM / Admission: 6:00 PM
Admission: pre-sale 10 €
Ticket offices:
– office at Kotten Nie, Bülser Straße 157, 45964 Gladbeck, Tel: 02043/66365
– Martin Volmer wine shop, Marktstraße 21 in Gladbeck
Slaves: www.theservants.de/woodstock
---
---
"Award-winning music trailblazer. Gamer. Lifelong alcohol enthusiast. Thinker. Passionate analyst."