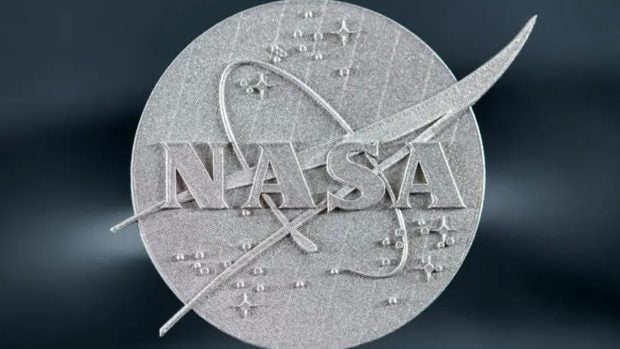 The logo has been printed with a new alloy. (Photo: NASA/Jordan Salkin)
Resistant alloys can be used in 3D printing, for example for parts of aircraft and spaceships. It is strengthened by the oxygen atoms contained in the small molecules.
A research team from NASA and Ohio State University has developed a "super-strong alloy" that is said to be about 1,000 times stronger than previous alloys used in 3D printing.
The new alloy has the potential to revolutionize 3D printing. The alloy can mainly be used to print parts for airplanes and spaceships, as suggested by the researchers in their pieces Research paper Writing published in the journal Nature.
"This new alloy is a major achievement," said Dale Hopkins, deputy project manager for conversion tools and technologies at NASA. blog post NASA. "In the near future, it could be one of the most successful technology patents ever produced by NASA Glenn."
The new alloy is called GRX-810 and its longevity is increased with the help of oxide dispersion. This means that the alloy is reinforced with small molecules containing oxygen atoms.
Above all, these are suitable in situations where they will be exposed to very high temperatures, such as in aircraft or rocket engines. According to NASA, the alloys currently in use can withstand temperatures up to 1093 degrees Celsius. The new alloy should be able to withstand temperatures twice as high and be more resistant to oxidation.
The receiver will have to say exactly which parts the new alloy will be used for. The strongest and most durable materials for aircraft and spaceships will certainly find their application.
Maybe one day the alloy will reach Mars. or to Texas. Because NASA has created here an exact copy of the Red Planet, which astronauts can practice in their daily lives.
The Mars replica is meant to prepare astronauts for what it's like to work at a research station on Mars. NASA wants to gain insight into the physical and psychological effects and assess the consumption of crew resources.
Within the next three years there will be a total of three missions at the facility.
"Prone to fits of apathy. Zombie ninja. Entrepreneur. Organizer. Evil travel aficionado. Coffee practitioner. Beer lover."